I would be remiss if I didn't mention Matthew Shepard today. Thirteen years ago, on the night of October 6th, at approximately this exact time in fact, Matthew was offered a ride home from the Fireside Bar in Laramie, Wyoming. Shortly thereafter, the two young men that were driving him home, Aaron McKinney and Russell Henderson, tied Matthew to a fence and mercilessly beat him. They took the twenty dollars and the credit card he had from his pocket, and left him to die.
Matthew was found more than 18 hours later by a passing cyclist and admitted into the hospital after spending the previous night in near freezing temperatures. He was in a coma at the time he arrived at the hospital. He never regained consciousness. At 12:53AM on the morning of October 12th, he was pronounced dead.
While family and friends mourned his passing, Fred Phelps, and the members of Westboro Baptist Church protested Matthew's funeral.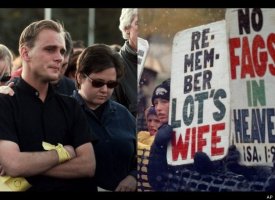 The murder of Matthew Shepard became a catalyst for hate crimes legislation across the nation. His mother, Judy, quickly became one of the country's most vocal spokespersons for LGBT rights.
It wasn't until 11 years after Matthew's death that hate crimes legislation was adopted on a federal level on the basis of sexual orientation. The Matthew Shepard Act was signed into law by President Obama on October 28, 2009.
Matthew would be turning 35 on the first of December had he still been alive. So much has happened in the way of gay rights, just in the last few years, that it makes you wonder what Matthew may have been doing today. He could have been a father. He could have been married. He could have lived a life that seemed impossible for a young gay man in 1998 Wyoming.
Such a heartbreaking loss.