In the "I couldn't make this up if I tried" story of the day, Hallmark has announced that they're launching a line of cards geared towed the recently unemployed. With the unemployment rate well above 8 percent for the last two and a half years, many people think that this is a long neglected segment of the population by the greeting card industry.
According to Hallmark's Creative Director
Derek McCracken
, the idea is to provide a little comfort and empathy in an otherwise demoralizing and stressful situation.
"People in times of need will always need to connect," McCracken told NPR, "and when the consumers have asked us for a way to connect in those difficult situations, we try to respond in an authentic way and we think that's what the greeting card does."
Take a look at a couple of the cards: (These are the actual cards. I am not joking.)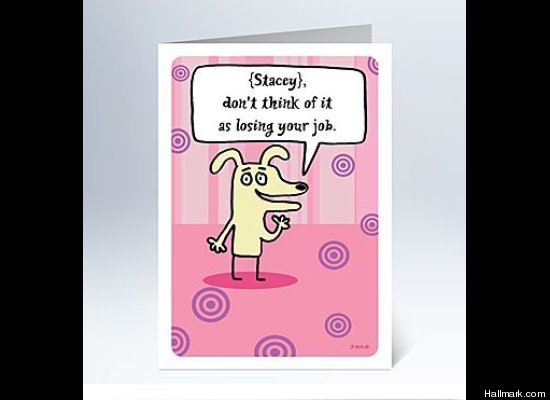 On the inside: "Think of it as a time out between stupid bosses."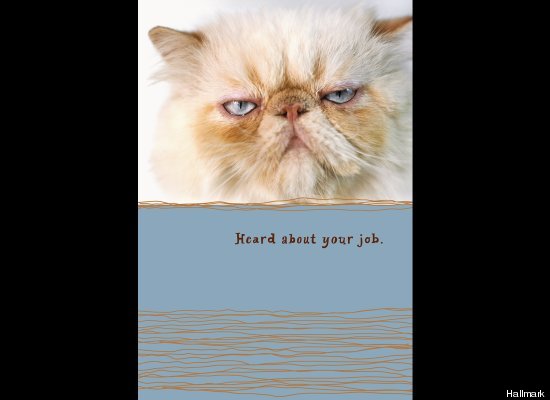 On the inside: "Is there anywhere I can hack up a hairball, like say, on a former employer's head?"
Call me a pessimist, but isn't this simply a way for Hallmark to capitalize on the current economic situation? After all, their sales
have
to be down compared to what they were two or three years ago. Times are tough. People are out of work. Customers don't have the money to buy greeting cards as often as they did in 2008 and 2009. Wouldn't it make sense that Hallmark would try to find a market that they could tap into? One where their target audience would have the money and resources available to buy their products? Makes sense to me.
Also, just speaking for myself, but if someone bought me a "sorry you don't have a job anymore" greeting card, I would be insulted beyond belief. What am I supposed to do with a Hallmark card? Put it on my refrigerator to remind myself how I don't have a job? Thanks for your support, but a phone call or email would have sufficed.
Also, if you're going to spend $5.00 on a greeting card to tell me that you're sorry that I don't have a job anymore...please just give me the money instead. I could put that $5.00 to much better use feeding my daughter.
In the United States, we seem to equate acknowledgement with aid. A pat on the back with the words "I'm sorry. That sucks" is the equivalent of a helping hand. For some, it may be. To many others, it could possibly be the beginning of a step back.
I'm afraid to see what may be next from the greeting card industry. "Sorry to hear you can't pay your rent?" "So, I heard you've been evicted?" "So, your kids didn't eat dinner last night?"
Where does it stop?